I can so relate how my transitions darkest day had ended. Now reborn like that mythical bird.  That of the phoenix.
I crossed that fiery door in hopes of solitude and silence only to be pulled back. This has allow the caterpillar to change into a butterfly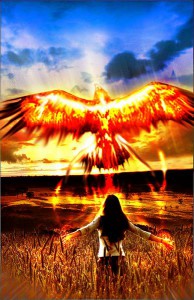 As I gaze deeply in the last pile of ashes.
A life short I see lived.
I find resolve that soon.
There will be a new life from these ashes.
We all know that of the Phoenix.
Mrs. Izzy