"Redefining Realness: My Path to Womanhood, Identity, Love & So Much More" by Janet Mock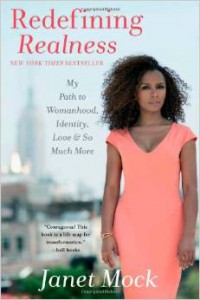 In her New York Times-bestselling memoir, writer and activist Janet Mock tells her coming-of-age story as a transgender woman of color in Hawaii.
The book describes her path of self-discovery, from age three in Honolulu to age twenty-eight in New York, shortly after she came out publicly in a Marie Claire article. The memoir is touchingly book-ended with a brief but engaging account of Mock's romance with her fiancé.
Mock's love and strong connections to family and friends is a constant throughout the narrative, but she is also brutally objective when describing her impoverishment, her mother's physical and emotional neglect, her father's disapproval and inconstancy, and both parent's substance abuse.
Despite these disadvantages, Mock's resilient support network allowed her to begin publicly and confidently expressing her female identity at age 15. Her classmate Wendi, already a confident trans girl when they met, provided an early role model and soon became her best friend and hard-headed adviser.
The loving and accepting older women in Mock's extended family, who gathered in her Grandmother's home in the Kalihi neighborhood of Honolulu, accepted her transition easily, adopting her female name and including her in their activities.
Although she self-medicated for a short time, Mock was also extremely fortunate to find a local endocrinologist with long experience treating trans teens, and who was willing to give hormone injections for a nominal fee.
Mock also benefited from the local "Māhū" culture, a group of trans women fulfilling the traditional Hawaiian role of "third gender". Women in this position were historically held in high regard in the community, allowing them to mentor trans teens from a position of cultural esteem and respect.
This unusual level of support, coupled with Mock's drive to succeed, helped her transition socially in high school – while becoming an honor student, captain of the volleyball team, class treasurer, and ultimately, recipient of a scholarship to the University of Hawaii.
After graduating with a BA in Fashion Merchandising, Mock moved to New York, where she completed her MA in Journalism at New York University and then worked as staff editor at People Magazine.
In 2011, Mock gave up her privacy in an interview with Marie Claire.
"It was the pivot in which I decided to invite the world into my life," Mock writes, "when I chose to acknowledge that, although you may not perceive me as being trans, I am trans, and being trans – as is being black, Hawaiian, young, and a woman – is an integral part of my existence, one that I have no investment in erasing."
After the article was published, Mock writes, she realized that "… I withheld parts of myself and details from my journey … as a result, the girl in the piece seemed untouchable, unscathed, a bit of an anomaly".
Her memoir is, in part, an attempt to fill in the gaps. Mock writes, "It is about those parts of ourselves that we silence everyday, those parts that we all store away in boxes deep within … I aim to open those boxes, display their contents, and be accountable to my truth."
This theme is clear throughout the book. At points in her story where Mock feels her personal experience was markedly better than that of most trans people, she steps back describes the difficulties other often endure. She is equally honest about her teenage decision to become a sex worker in Honolulu's red-light district, at first in order to afford hormone therapy at age 16, later to pay for genital reconstruction surgery in Thailand at age 18, and sometimes even to keep the electricity on when her mother couldn't make ends meet.
Mock's memoir has garnered high praise from many reviewers for its honesty, courage, and vivid prose. "Redefining Realness is a riveting, emotional, crisply written testimony," said critically-acclaimed actress and trans woman Laverne Cox. "I couldn't put it down."
To learn more about the book, try the "Look Inside" feature on the Amazon book page. For more on Janet Mock, visit her website at janetmock.com.