Recent news that Laverne Cox has been cast in a network pilot to play yet another trans role has mostly been met with warmth and celebration by the transgender community. Cisgender actors have traditionally played transgender roles in Hollywood. It is refreshing to see the trend get bucked, even if it is just a little.
Hollywood follows its own rules. If something works once, Hollywood being trained to try to get it to work again. Don't expect the doors to immediately open for transgender actors.
The door has simply opened for one trans actor. Most transgender people would be hard pressed to name any trans actor other than Laverne Cox. Due to the way Hollywood works, expect Laverne to get her pick of such actors roles at the cost of other actors getting a shot. There are only so many trans roles out there now.
At the same time, cisgender actors continue to play transgender roles. Laverne did not win an Emmy for her work in, "Orange is the New Black" (yet), but Jeffrey Tambor recently got a Golden Globe for his work in, "Transparent" and Jared Leto an Oscar for his role in, "Dallas Buyers Club". Hillary Swank also took an Oscar home for Best Actress for, "Boys Don't Cry".
If it works, Hollywood will try to do it again. If cisgender actors are bringing home awards, the next best thing after money, Hollywood takes note.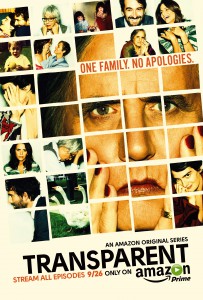 "Transparent" has cast many trans actors but none are the lead. Why? Well, Tambor is a known actor and, casting already knew how he'd look in a dress after his work in, "Arrested Development". There is something about showing Tambor, and his trademark melancholy face, dressed and made up to play the role of Maura, that speaks volumes and tells people in a single picture, much of what they can expect from the show. It is the story of the family's patriarch uprooting his life to become her own true self, while her family's selfish ways hold them back from their own transitions into better people.
Many within the transgender community are tired of cis actors playing people like them in movies and television. When you are trans it is easy to spot mistakes or moments overlooked by cis actors. Also, you may feel trans voices being muted by cis actors, producers, writers and casting agents.
The odds of seeing a transgender produced, written and acted movie or television show on the scale of, "Transparent" or, "Boys Don't Cry" is slim, at least in the near future. There is room in the independent scene for such projects but the mainstream costs much more so investors are less likely to take big risks. Investors want to know there is a good chance to make money when they spend it. Hollywood is not in the philanthropy business. They are in the business of profit.
Eventually an equilibrium will meet. One thing often overlooked by the trans advocates out there is, why aren't more transgender actors playing cisgender roles?
Actors, be they trans or cis, tend to like a challenge. Be careful what you wish for, it may just come true. Does every trans actor wish could be a poster child for the trans cause, or do they just want an acting career playing interesting roles just like any other actor?