Trans F2M, M2F, HBV and Forced Marriage Refuge Space for Male Victims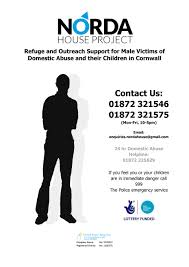 The Norda house project combines an outreach advice and support service, and a residential refuge  for men who have experienced domestic abuse.  The refuge itself consists of 5 units; unit is a completely self-contained flatlet, and the other four bedrooms (one of which is en-suite) share a fully fitted Kitchen, lounge, diner, two bathrooms, and a patio garden.  At full capacity the project will be able to house 5 adults and up to 10 children.  
We may reserve the self-contained flatlet for a transgender person (either male to female, or female to male) who is fleeing domestic abuse. We have already received referrals for males fleeing honour-based violence and may also consider the self-contained flatlet for couples fleeing honour-based violence. We will also consider male victims of forced marriage. 
The outreach service will complement the existing IDVA service and provide support and advice to men who have either recently left or who are still in domestically abusive relationships, and who are deemed to be at low, low/medium risk, and/or men who have recently left the male refuge, or who are living in county and about to come into the refuge.  
The support available will probably be time-limited as opposed to open-ended due to staffing levels, however there are plans to set up male victim groups (similar to the Susie Project) which will provide ongoing peer support and social networks. It is also envisaged that these groups will feed into the Male Recovery Toolkit programmes which will be co-facilitated between the Norda and Susie teams.
For more information contact