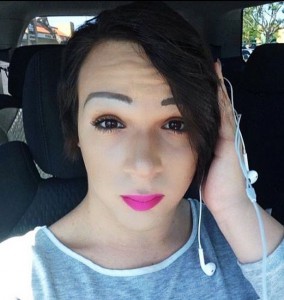 Fallbrook CA – Taylor Alesana, a transgender teen from Fallbrook, CA, was confirmed by family to have committed suicide on April 2nd 5015.
Taylor was a frequent YouTube vlogger, aiming to inspire and support other transgendered teens like herself. She said in her YouTube vlogs that was constantly bullied via the internet and every day at school, she would walk around with earphones in so she wouldn't hear the constant abuse thrown at her by other students.
When she went to the school counselor about this, no action was taken by the school. Though Alesana defiantly stated in her video, "I don't care what other people think," and encouraged other trans youth to embrace themselves, the pain caused by relentless name calling, taunting and bullying led to her tragic death.
Taylor was also a member of the North County LGBTQ Centre, who said in their latest newsletter:
'As a transgender teen she was constantly picked upon, bullied and attacked by her peers. With few adults to turn to, and with no support from her school, her life became too difficult. Taylor was a beautiful and courageous girl, and all she wanted was acceptance.'
Taylor's first vlog:
Taylor's heartbreaking video where she explains having to go back into the closet for her own safety:
Taylor's death is on record as the seventh suicide of a young trans person in the US in 2015. How many more teens have to die before we see change?
Taylor Alesana, Rest in Peace.