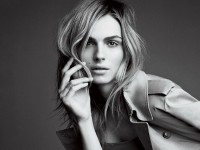 In May, for the first time ever, Vogue magazine will include an interview and a spread on a transgender model, Andreja Pejic.
Andreja had always known she was not meant to be the gender assigned to her at birth. In an interview she said "I wanted to stop puberty in its early tracks. I was worried about my feet being too big, my hands being too big, my jawline being too strong". In her early teens she began taking hormone blockers, which she kept secret from her family.
Since announcing that she was transitioning in 2014, she has worked on a documentary about her transition process, has modeled for Vogue and is now set to represent Make Up For Ever (she is also the first transgender woman to be the face of a major beauty campaign).
While there is a growing acceptance of the Transgender community, many of us still face discrimination, Andreja included. Although, with more and more trans representatives in the media and the public eye, it is becoming much more accepted, legally and with people's attitudes.