Aydian Dowling is a trans FTM YouTuber and owner of
Point5cc
(a clothing brand and site for the trans community) and is now leading the competition to be on the cover of
Men's Health magazine
, currently having approximately 5 times more votes than the person in second place.
The 'Ultimate Guy' contest is held every year by Men's Health magazine, and if Dowling wins this year, he will be the first transman to feature in the magazine. In an interview regarding the competition and his transition, he said "I wanted to become my version of what I feel is a 'good man' […] Everything I represent in the ultimate guy contest is a manifestation of those efforts to be that 'good man.'"
This isn't the first time Dowling has been in the spotlight however. He has documented and shared his experiences of transitioning on his YouTube channel, ALionsFears, which has over 18,000 subscribers. He also owns Point5cc, an online clothing shop. When he established Point5cc in 2011, he used profits to fundraise for his own top surgery, but since then he has used profits to help fund other trans* people's surgeries, as well as creating a binder scheme.
He also is no stranger to modelling, his re-creation of Adam Levine's iconic nude photograph went viral in early 2015. After his top surgery, Dowling became interested in body building, and with the support of his wife, Jenilee, he has built his physique and confidence, and now speaks at trans conferences and now does not hesitate to show off his hard work! He has become a role model to younger transmen and hopefully after winning the 'Ultimate Guy' competition, he will not only bring awareness to the trans community but make younger transmen more confident in their identity as transgender and more hopeful about transitioning.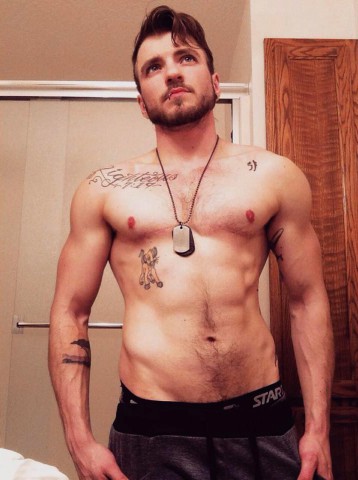 Want to vote for Aydian? Click here