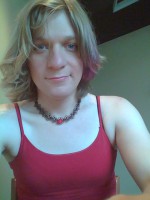 Julianna Fialkowski, a trans-activist in Lynchburg, Virginia, was arrested last month for contributing to the delinquency of a minor-a Class 1 misdemeanor, for assisting a transgender youth who had made a Facebook cry for help and stated he was self-harming and suicidal.
She made headlines last year after a Virginia judge refused her request for a name change, placing it under "extra scrutiny" without explanation. Virginia is known for having among the easiest legal requirements in the country for legal name changes-requiring nothing more than a few forms and a small fee. Eventually the judge reversed himself before Julianna was supposed to have a hearing on the matter and the name change was allowed.
Julianna's legal troubles began late last March when she heard about a 17 year old transmale who was suicidal and self-harming. The story also stated that he was being forced out of his house. Julianna runs a support group for trans* people in Lynchburg and tracked down the youth's location. She and a prayer chaplain from her group, Lindy Ramsey, went to the child's house where an argument ensued between the youth and his father, ending with the father telling his child to leave the house.
Fialkowski and Ramsey took the child to Ramsey's home where he stayed the night, before being picked up by his father at 1 AM in a meeting which Julianna called "civil." Later that day the police returned to Ramsey's house to question Julianna, assuring her that she was not in any trouble but they returned several hours later with a warrant for Julianna's arrest. Ramsey was not arrested.
Fialkowski, who completed her gender transition a year and a half ago, turned herself into the Lynchburg PD later that night where she claims she was misgendered by the magistrate, police, and jail officials who addressed her as "Mr. Fialkowski" and "Sir." She states she was made to strip naked in front of four male police officers and was threatened with detention at a male jail facility if she was unable to make the $2500 bail. She was able to make bail and is seeking legal counsel.
She had this to say about her arrest: "I've never encountered an arrest, and I never imagined helping teens or others would come to something like this. Several members of the Lynchburg PD, and the magistrate specifically, were exceptionally discriminatory."
A GoFundMe page was set up to assist her with her legal fees.
The Lynchburg PD has yet to respond to questions.