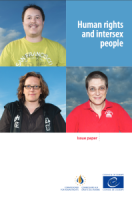 On the 12th May 2015 a report was released by the European Union Agency for Fundamental Rights (FRA) regarding the rights of intersex people.
"The rights of intersex people have been largely overlooked by policy makers and legislators across the EU over the years. FRA's work points to some of the urgent challenges that need addressing to break down the discriminatory barriers that persist and to alleviate the unnecessary suffering from medical intervention."
Intersex is a collective term for many natural variations in sex characteristics. In many countries around the world it has been common practice to perform sex "normalising" procedures so that these people can be issued a birth certificate with either male or female to fit into the binary view. The problem with this approach is that only the individual can say what is normal for themselves and must be allowed the time and freedom to find their true selves.
These are some of the key facts from the report:
Many member states legally require births to be certified and registered as either male or female
In at least 21 member states sex "normalising" surgery is carried out on intersex children
In eight member states a legal representative can consent to medical intervention independently of the child's ability to decide
18 member states require patient consent provided the child has the ability to decide
The report goes on to state that these sex "normalising" procedures are in violation of the individuals fundamental rights to self determination and the registration of male or female on a birth certificate is a gateway to discrimination.
Currently at least four member states allow birth certificates to be issued as sex neutral and two allow the birth certificate to be issued without a sex identifier. The report cites these as examples of how gender markers could be reviewed to better protect intersex people.
The FRA goes on to recommend that member states should avoid non-consensual medical procedures for intersex people as such procedures are viewed by international law as inhumane, cruel and degrading.
It is my hope that the member states of the EU take action in light of this report and change laws and procedures to protect intersex people. In  doing so they will provide a viable template for non EU countries to also change the way intersex people are treated