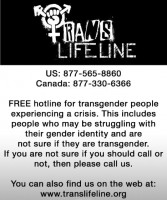 Kyler Prescott, a 14 year old transgender teen in San Diego, California, committed suicide on the 18th of May. This is the 11th suicide of an American transgender teen since the start of 2015.
Kyler was creative and passionate, he loved playing the piano and being an activist for gay and animal rights. He was like many other teens, happy and confident, attending trans youth groups. Kyler had a supportive family and his parents accepted him, but he was bullied severely online.
In an interview, his mother said that Kyler suffered from self harm but had improved until this past Easter when he started cutting again after he was harassed on Kik, a social networking site, telling his mother that, "They said horrible, sexual things and told me I shouldn't be alive."
2015 is a year many will remember in the future for having a huge increase in the visibility and acceptance of trans people, however we must never forget those whom we lost.
Rest in peace, Kyler Prescott.