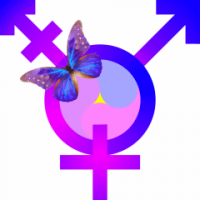 A recent episode of the Diane Rehm show dealt with acceptance of transgender people. It was well put together with thoughtful and knowledgeable guests. However one claim made by two of the guests, Nick Adams of GLAAD and Sharon Brackett of Gender Rights Maryland, was that late-life and middle-age transition will become rare. In their view of the ideal future, transition will be socially acceptable to the point where transgender people will feel comfortable transitioning during their teen and college years, and we'll no longer hear of middle-aged men and women with established careers and families changing their gender presentation. Plans that cover transition-related medical services will become commonplace and transitions will no longer be delayed by money concerns.
Is this true? Are we really headed to a world where a middle-aged transitioner is some sort of dinosaur making us wonder why it took so long to get into gear? Will transgender support sites and facilities become havens for the young who all get their gender work squared away by early adulthood?
We typically give futuristic predictions a lot of latitude. We still respect computer pioneer Thomas Watson even though he couldn't see a need for more than five computers in the world. We excuse U.S. president Woodrow Wilson's belief that World War I would somehow end war. However, I'm concerned that Ms. Brackett's and Mr. Adams' prediction about the rarity of later-life transitions will have negative policy implications and ignores the reality of many in our community. It is probably wrong and possibly dangerous.
Listening to the stories of hundreds of later-life transitioners both here on Susans.org and in various support groups, I've come across at least four reasons why people delay transition until later in life:
As Adams and Brackett point out, many lack social and financial supports for a successful transition.
Some don't want to be "different". They want similar lives to family and friends. They want to date, marry, parent biologically related kids, and participate in the same life passages as those around them.
Some don't initially see their dysphoria as that serious. They would rather fight or ignore their brain's gender messages. Many decades may pass before they come to a point where that's no longer possible or the way they want to live.
And some, myself included, take that long to figure out that being transgender is the source of our unease.
When only #1 above is involved, yes, such people will probably tend to transition earlier. But #2, #3, and #4 are not going away, no matter how easy medical coverage is to obtain or how tolerant our society becomes. Humans are herd animals. There will still be people daunted by the isolating effects of transition. They don't want to feel different from friends and family. And Gender dysphoria doesn't break out like a physical rash. It may masquerade for decades as poor social adjustment, anxiety, or depression.
In today's world, research money and medical services flow in the direction of perceived need. If policy makers and voters believe that later-life transitioners are destined to become a thing of the past, recognition for our unique problems and issues will become harder. When I first sought care, I encountered skepticism (to say the least) that someone could spend the first five decades of life unknowingly transgender. As a result, I faced all sorts of gatekeeping and obstacles to obtaining services. I am concerned that if people see truth in Brackett's and Adam's words, that situation may worsen.
My main beef with the prediction, however, is that it further perpetuates the supremacy of the "standard narrative" over the many other ways that transgender people experience their gender. The media likes to paint a homogeneous picture, where we generally know from a young age, we generally experience our gender as a certainty, and we generally face severe dysphoria when living as our gender assigned at birth. That view has done a serious disservice to those whose gender emerged slowly over decades and for whom certainty or extreme discomfort was not in evidence. How many transgender people took far longer to recognize that transition would bring great improvements to their emotional lives because they didn't match that narrative?
In an informal poll taken at this site, less than half of the respondents reported understanding their gender at a young age.True, many knew in preschool or grade school they needed to transition. But many others took far longer. Declaring that late-life transitions are soon to become rare has the effect of erasing those experiences.