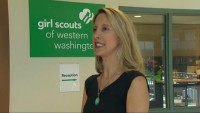 The Girl Scouts of Western Washington received a $100,000 loan from an anonymous donor, enough to send 500 girls to camp. But the loan came with one stipulation:
"Please guarantee that our gift will not be used to support transgender girls," a letter from the donor read. "If you can't, please return the money."
 So the money went back to the donor," said Megan Ferland, the chapter's chief executive officer. She didn't hesitate for a moment about the decision: "If a transgender girl wants to go to camp, she's going to go to camp.
The donation represented nearly a quarter of the chapter's fund-raising goal but the decision to return it was easy, according to Megan Ferland.
"Girl Scouts is for every girl, and every girl should have the opportunity to be a Girl Scout if she wants to," she told the Seattle Metropolitan Magazine.
With such a large hole in their budget the chapter turned to online fundraising, starting an Indiegogo campaign to raise the money they had returned. Nine hours after going live the campaign had raised $25,000. At this point they have over $300,000.
It's truly heartwarming seeing the GSA supporting transgender girls and even more so seeing the reaction from the public. The expectation is that over 2000 girls will be able to receive help based on the current donations.
Thank you, anonymous donor, for your transgender bias. You've done more for transgirls with your bigotry than you would have had your donation not come with terms.