Transgender West Virginians May Now Get Accurate Driver's Licenses With Photos Reflecting Their True Selves
New York, NY – The Transgender Legal Defense & Education Fund (TLDEF) celebrates news that the West Virginia Division of Motor Vehicles has changed its license photo policy to allow transgender individuals to be photographed as they regularly appear.
The DMV's new policy comes in response to TLDEF's threat of litigation on behalf of a group of transgender women who were told by the DMV that they would not receive driver's licenses unless they changed their regular appearance to try to look male in their license photos.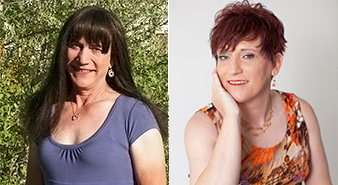 In 2014, Trudy Kitzmiller and Kristen Skinner attempted to update their driver's licenses to reflect their new legal names and appearances at separate DMV offices in West Virginia. They were met with hostility and harassment by DMV officials who insisted that they remove their makeup, jewelry and other items in order to try to look male in their license photos. Both women were called "it" by DMV staff. The DMV's existing license photo policy prohibited license applicants from "misrepresenting gender."
Soon after, TLDEF contacted the DMV on behalf of Trudy and Kristen in an attempt to resolve the matter without litigation. TLDEF explained that Trudy and Kristen were transgender women who just wanted license photos that looked the way they do on a regular basis. The letter further explained that forcing Trudy & Kristen to remove their makeup and other items to try to make them look male before allowing them to take their license photos restricted their free speech rights and amounted to sex discrimination in violation of state and federal constitutional protections. TLDEF asked that the women be given the opportunity to have their license photos taken while appearing as they normally do.
In its response, the DMV refused to budge, claiming that it was attempting to "prevent fraudulent actions" and stating that Trudy & Kristen's "appearances were considered an attempt to conceal or alter their identities." TLDEF then threatened to sue on behalf of Trudy, Kristen and Valerie Woody, a third transgender woman who contacted TLDEF after she was denied a learner's permit that looked like her.
As of July 1, the DMV has replaced its discriminatory photo policy. The new policy prohibits DMV staff from asking license applicants to "remove or modify makeup, clothing [or]hairstyle" for their photos. It opens the door for Trudy, Kristen, Valerie, and all other transgender West Virginians to update their driver's licenses to reflect their true selves, free from discrimination. The new policy took effect along with a second updated DMV policy allowing transgender West Virginians to correct the gender marker on their driver's licenses upon submission of a form signed by a doctor.
"I am thrilled that we won. Getting my license updated has been a long struggle. I am relieved that the DMV will finally allow me to have a license that reflects the real me and will treat transgender people fairly," Trudy said. "This is who I am – a transgender woman – and I have overcome many obstacles to be my true self. What happened to me at the DMV was wrong. I am so glad this policy has changed so that no one else will have to experience the humiliation I faced at the DMV."
"I am so happy that I can update my driver's license to reflect who I truly am as a transgender woman," Kristen said. "It has taken me a long time to embrace my authentic self, and it has not been easy. No one deserves to be treated with the disrespect I encountered at the DMV. This new policy ensures that transgender West Virginians will be treated fairly at the DMV. Transgender people need accurate driver's licenses that reflect who we truly are, and now we will be able to get them."
"This victory sends a strong message about equal rights," said TLDEF Staff Attorney Ethan Rice. "Transgender people are entitled to be themselves without discrimination. It is not the role of the DMV or its employees to restrict any transgender person's freedom to express who they truly are. People should be able to get a driver's license without being subjected to sex discrimination. The policy change that the DMV has implemented will help all transgender West Virginians in the future and we thank the DMV for agreeing to this change without litigation."
Robert D. Goodman, Brandon Burkart, Veronica R. Glick and Jarrod L. Schaeffer of Debevoise & Plimpton LLP and Jack D. Hoblitzell of Kay Casto & Chaney PLLC were pro bono co-counsel for Trudy, Kristin and Valerie with TLDEF. We are grateful for their assistance.