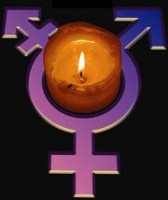 Note from the editor: this is a long piece and strictly my opinion. The contents of this piece are in no way meant to represent the beliefs of Susan's Place or its members.
As my transition progresses I've steadily become more and more "brave" in my coming out without actually coming out, particularly on social media: comments in support of the LGBT community, liking trans* specific pages, things of those nature. So it was in this spirit that I made a post and comment during last year's Day of Remembrance. What happened next still stuns me to this day and has coloured my perception of my Aunt and Uncle irrevocably.
Before I begin I feel a little background is in order. My uncle has a daily or weekly (I never bothered to ask and never got past the first three minutes of one 'episode') show on a local access cable station where he parrots every single hardcore right-wing talking point out there. He's a miniature Rush Limbaugh or Sean Hannity with a reach of a few thousand thanks to YouTube.
He and my aunt were very active in state and local efforts to keep Marriage Equality from passing in their state (this was before the SCOTUS decision) and made comments about sodomy and "Gay Jihad" and all the other bilious spew the far right likes to use against us. When the law passed allowing Marriage Equality in their state I was happy not only for the people of the state but for the chance to stick it to my Aunt and Uncle who, were, at one point, my favourite set of Aunt of Uncle before they changed, right about the time Obama took office. I posted a congratulatory post to the people of their state which I know they both saw and pointedly ignored. It was my post on the Day of Remembrance where my Aunt chose to go on the offensive against me.
What follows is the discussion that took place that evening:
My original post and link. Yes it was…confrontational but it wasn't directed at anyone. People murdering others in my community tend to piss me off:
Hating people for inborn characteristics like gender identity and sexual orientation is as stupid and ignorant as hating people for the amount of melatonin in their skin. If you can't acknowledge this than you're part of the problem and welcome to unfriend me. I will not abide by hatred and bigotry guided by ignorance, theology, or because someone is simply an asshole.

Why we should all celebrate life on this Transgender Day of Remembrance
My aunt goes on the attack (names have been changed to protect the shameful):
Hi Michael – Uncle John and I do not and cannot agree with LGBTQ as an acceptable behavior. I would suggest that you might want to read a couple of books on the subject, "Is God Anti-Gay" by Sam Allberry, who is a same sex attracted minister in England, so he writes from a perspective of understanding that you and I cannot possibly share, and a book called "Making Gay Okay" by Robert R. Reilly. Please do some research before you decide that everyone who stands for the Bible, Natural Law, Aristotle's Laws of Nature, and a multitude of other sources are, as you put it, assholes. I know that there is pressure from the LGBTQ promoters who would have you group all who believe God's word into the following: homophobes, haters, intolerant, judgmental, insensitive, worthy of death, stupid, ignorant, hateful, ad nauseam. If you are willing to do the research, you might just find that Uncle John and are not stupid, not are we ignorant. We have watched this agenda unfold over more years than you have lived. If you want to really know truth, look in God's word. Remember, ALL TRUTH IS GOD'S TRUTH. I will pray for wisdom for you. Love, Aunt Marsha.
My response:
I love you and Uncle John, Aunt Marsha, but if it's a theological issue than it's between the individual and God, not you. It's not your place to dictate other people's morality. Look at the statistics for violence against LGBT people and ask how much of that is due to religion.

This is an issue people with opposing views will remain at loggerheads over and that's fine unless violence proceeds or follows words and sadly, too much of hatred and bigotry today is religiously based. I can't condone that and if I have to answer to God for it than so be it. Your family and I love you all the same but we'll have to agree to disagree here.
Here's where she ventures off into Right Wing, religious based nuttery:
Michael – If you look at the statistics, you will see that most of the violence against LGBTQ is committed by other LGBTQ. Please so the research yourself instead of buying into the lies of the LGBTQ propaganda. I also suggest that you read, "When the Wicked Seize a City" by Chuck and Donna McIlhenny to see exactly who perpetrates violence upon whom. Uncle John and I have been the recipients of death threats because we stand for traditional marriage, the rights of individuals and businesses to serve whom they want, and the rights of children to be free from seeing naked adults of the opposite gender in changing rooms and restrooms. We believe that a Muslim barber has the right to refuse to cut the hair of a lesbian woman because his religion says he may not touch an unrelated woman. We believe that a Jewish baker is free to refuse to bake a cake with a swastika on it. We also believe that marriage is between one man and one woman. As to religiously based violence, nearly all of that is against Christians and Jews. Hatred is a terrible thing. We have been on the receiving end of too much of it from the very group that you support. I love you, too, Michael. I will continue to pray for wisdom for you. Please look for the books I suggested and read more than just one side of the issue. I have read scores of books from both perspectives and have come to conclusions based on that reading and my nearly 70 years of life experience. Love, Aunt Marsha.
I respond to this with a certain amount of incredulity:
I've done research and find your assertion that most of the violence against LGBT people is by other LGBT people to be ludicrous. Show me statistics from reputable, non-biased sources to back that one up.

Hatred is hatred and is wrong no matter the source or the victim. I would defend you and Uncle John from anyone who made threats against you as much as I would defend someone being threatened from the other side, no matter how much I may disagree with you on this matter. Sadly though, statistics don't lie and they show that LGBT people are the victims of violence and not the perpetrators in the vast majority of cases. You're trying to conflate equal rights with special rights which is where this debate always goes.
One of my mother's friends injects a bit of common sense into the discussion:
I think everyone should have a right to be happy and love who they love. Who are we to judge….
My response (note, I haven't yet come to the realization that I will soon be coming to, that by arguing against my original point, my Aunt is advocating violence against the LGBT community and the murder of trans* people):
Agreed, Nancy. People claim for themselves the moral authority on certain issues they claim only God has then wonder why people call them on it. Treat everyone the same, don't dictate what consenting adults can do with their lives and mind your own business.
At this point my Aunt decides to inundate me with links galore:
This link is her attempt to obfuscate the point by conflating same sex domestic violence statistics with violence against the LGBT community.
This is a 17-year-old press release from a Men's Right site.
This page is actually LGBT friendly so I appreciated the chance to get a little egg on her face.
At this point I decided to toss out some pages of my own which, unlike hers, go to places like the FBI and aren't simple opinion pieces:
You're stating domestic violence statistics which, according to the reports are equal to domestic violence rates in hetero couples, proves your point?

The gayfamilysupport site actually supports my position and not your own.
She notably failed to respond to this. At this point I decided to put the nail in the coffin of this conversation:
We can both sit here and regurgitate statistics all day long; neither is going to change the others mind. We'll have to agree to disagree on this matter. My point still stands: violence against people for inborn characteristics is wrong. Bigotry is bigotry no matter how much religion you wrap it up in. You want to bring the Bible into this, we can both play that game as well. It's easy to cherry pick verses to support an agenda. I've heard all the same arguments from all the same sources from the right wing echosphere since this issue really hit public consciousness so nothing you're saying to me is new. You want to pray for me, feel free. I will hope that you overcome your bias and atavistic fears. I love you, no matter how much we may disagree on this or other issues because that's what families do. Have a good night.
At this point I had come to realize that in arguing this, my aunt was in opposition to my original point, meaning she supported the murder of trans* people, meaning she supports my own violent death though she is, as yet, unaware that I'm transgender.
I unfriended her that night and haven't spoken to her since. She is still family and I love her but I will not abide this kind of hatred of myself and trans* people in my life.
My aunt is a staunch Republican and Tea Party supporter. At this point there are no moderates in the GOP; they've been pushed to the fringe as the fringe has become the mainstream. They've gotten in bed with the religious right and coddle the lunatics and now they are reaping what they sow.
If you support the GOP as they are now, you support a group of people who want, at best, to pass legislation making it legal to discriminate against the LGBT community and, at worse, actively advocate violence and murder.
As one poster on Facebook said on a page dedicated to Shade Schuler who was murdered last month: "Just stop fucking killing us."
I can't agree more.