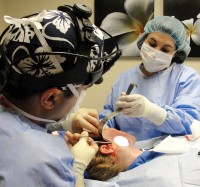 "You shouldn't try to pass."
So say the activists, the transgender activists with their eyes on the future. Some will not even suffer that term to be used in their presence.
"You don't need to pass. You already are the woman (or man) you seek to become."
So say our matriarchs, the loving, nurturing, motherly souls who see our gender shining through like a bright sun when we feel like we're on our hands and knees looking for it.
We know they're right. We know the quest for passability demeans us, focuses us on the superficial, rather than the heartfelt. Even worse, it turns us inward in a community that sees such suffering that outward-turned souls are desperately sought. Worse still, it seems disparaging of the transgender condition. We can hear our detractors ask, if being trans were indeed nothing to be ashamed of, would we work so hard to hide it?
So, why do we do it?
Why, despite all we know and all we hear, are we still fixated on passing, on hiding our transness? After all, trans people are tough. We're insightful. We're wise in the ways of gender, having seen life from both sides of the gender divide. There is much to be proud of. Why then do so many of us spend a king's ransom, endure untold pain, and assault our body with bone shearing surgeries, just so people won't know we are trans? Why do some even consider suicide when we fear those efforts will be insufficient?
Conventional wisdom has it as a safety thing. If we pass in public, we're less likely to be victims of violence. If society were just more tolerant, that line of thought goes, we wouldn't care that much about passing.
It's not that simple. Our interest in being gendered correctly goes beyond safety. People still go to great lengths to pass who live in safe areas or places where LGBT people are not prone to be targets of violence. Our need is more basic than that. We want to be gendered correctly, and passing is the only way to guarantee we are gendered correctly.
Maybe not every last one of us, but for the majority of transitioners, a key goal is having the world see us as our true gender. Yes, I've met one or two who really don't care how people see them. There is a woman some years older whom I admire for her seeming nonchalance at being misgendered. Her voice is not passable, and she knows it. No one bothers her, but they call her "Sir" or "Ma'am" in equal measure, which she claims not to mind. However, it surprised me recently when she asked me for tips on making her voice passable. Et tu, I thought, though I knew how she felt and I was glad to help her.
Everyone will gender us based on their own criteria and the information they have about us. We all know that basic fact. Some will get it right based on the faintest of cues, a single piece of jewelry, for example. There are wonderful accepting folk who wouldn't dream of contradicting another's identity. Some will believe transgender is a myth, an imagined state visited upon us and our deluded allies. They will insist on misgendering us regardless of how well we pass, once they know we are trans. But most in between will make an assessment of our gender, conscious or otherwise, based on what they see, hear, and know of us, and on their incomplete understanding of how gender works. Their brains will skillfully assess our likely sex at birth and then stubbornly insist upon gendering us in that direction, discarding evidence to the contrary. If they recognize us as trans, we are at the mercy of that assessment mechanism or their ability to override it consciously. Those mechanisms differ for every human being, and differ further by what that human is able to learn about us at that moment. Once we are passable, the existence of those billions of conflicting gender formulas becomes a moot point. We will be gendered correctly.
As much as we would like to believe otherwise, transition isn't something we undertake in isolation. Transition is a request on our part to be seen by the world as a member of our true gender and be treated accordingly. For me, being a woman would be a hollow victory if the world continued to treat me as a man. If I were expected to act, look, dress, and play roles that are masculine, I would consider my transition a failure. Many trans people feel similarly. Males and females are treated differently in every human culture, and how people decide to treat us depends on their assessment of our gender.
In a recent poll of passable transgender people conducted on this forum, the overwhelming majority replied that people treated them differently once they began passing, even when it was known they were trans. Seeing is indeed believing. Whether they know it or not, people treat us as men or women based on whether we "seem" like men or women. We may not like this fact. We may rail against it, but most of us understand the reality of human nature. If we see someone who seems like a woman in all ways, we treat them as female without a second thought. When someone's gender is in any way ambiguous, we will unconsciously gender them. How we treat them depends on the outcome of that unconscious gendering and whether we can (or want to) consciously override it.
Even when that person is us.
That's right, when we see ourselves as the women or men we're trying to transition into, when we pass to ourselves, we are more easily convinced that we've transitioned successfully. I will amend the statement I made earlier, "Everyone will gender us based on their own criteria and the information they have about us." It would be more complete to say, "Everyone will gender us based on their own criteria and the information they have about us, including ourselves." It's not just others we're trying to impress. Many of us need the visual and auditory confirmation of passability to convince ourselves we've reached our destination. And many of us, as we start out, need that possibility to give us the necessary hope to begin.
Will that ever change? Will we ever get to the point where passability is no longer the holy grail of transitioning that it has become? Maybe, but I'm not convinced it has to do with how tolerant and accepting our culture becomes. It has more to do with how well we can override our own tendency to believe our own eyes and ears.