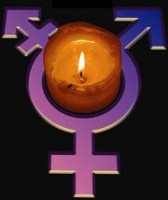 Five days ago I wrote an article similar to this one. It isn't an easy piece to write and I hate that the number keeps going up, making me have to write another one like the one from last week but, it's a number we all have to know because it affects all of us.
Seventeen.
This is the the number of transwomen that have been murdered this year, most of them women of colour.
Seventeen. The number of people murdered because they've committed the cardinal sin of going against the roles society tells us we must follow.
We all need to know her name: Tamara Dominguez. She was 36 years old and had fled Mexico to escape discrimination. She died here in the United States on 15 August.
2015 has been one of the deadliest years on record for transwomen and there are still four months left in the year. This month alone has seen at least four transwomen killed. The first time I wrote a piece like this was in March and by then the number stood at nine.
Witnesses say they saw Tara step out of a black Chevrolet Avalanche at 3 a.m. The male driver then struck her with the vehicle, backed up and ran her over at least two more times. Police originally classified the attack as Aggravated Assault because Tara was alive but unconscious when they found her. They are now investigating it as homicide but have said it's too early in the investigation to determine whether or not it was a hate crime.
Police identified Tara as male based on her legal ID but in a an emailed report sent to the Advocate, Sgt. Kari Thompson of the Kansas City Police Department included Tara's chosen name.
Family members told local news station KCTV they didn't know who Dominguez may have been with in the Avalanche or why she was in there, and that the vehicle wasn't familiar. Police are searching for clues to the identity of the driver and the SUV.
"She had a lot of dreams," her unidentified boyfriend told the Kansas City Star through an interpreter. She came from a place where she suffered a lot. That is why she came here.
She felt freedom."
She felt freedom and found death instead. She left Mexico to escape discrimination and her young life ended on a Kansas City street.
Any one of us could be Tara Dominguez.