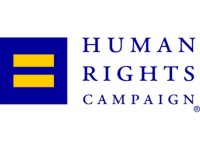 WASHINGTON, DC – Today, Republican presidential candidate Ted Cruz found himself on the defensive in Iowa after his speech on the Des Moines Register Soap Box after taking questions from actress Ellen Page, who came out in 2014 at HRC's Time to Thrive conference. Page has since become an activist and role model for LGBT youth, and also stars in "Freeheld" with Julianne Moore, an upcoming film that documents the struggle of real life lesbian couple Laurel Hester and Stacie Andree to overcome discrimination.
In the exchange, Cruz, claimed that business owners were facing discrimination by being asked to serve all customers – including lesbian, gay, bisexual and transgender customers – equally. Contrary to his claims, HRC's polling of self-identified LGBT Americans found that nearly two-thirds of LGBT people have experienced discrimination. Watch the exchange here.
Ted Cruz also bizarrely claimed that the abuses against LGBT people around the world are going unnoticed while suggesting that activists like Page made too big a deal of challenges in the U.S. In fact, the U.N. Security Council is scheduled to convene to discuss ISIS's horrific violence against LGBT people in a special session this Monday, and the Human Rights Campaign is one of several organizations that proudly works to stem hate and advance LGBT equality around the world.
"Ted Cruz showed today that he is living in another era where he thinks it's acceptable to treat LGBT people differently and allow businesses to refuse service to someone just because of who they are, or who they love," said JoDee Winterhof, Senior Vice President of Policy of Political Affairs. "Today Ted Cruz was served an important reminder that in a country like ours that values the free market economy, businesses should serve all law-abiding customers who can afford to pay equally, including lesbian, gay, bisexual and transgender people."
Last month, the Human Rights Campaign commissioned polling by GQR's Democracy Corps that showed that a majority of 2016 likely voters oppose using religion as an excuse to discriminate. HRC's July survey found that a 56 percent majority believe small business owners should not be allowed to refuse service to someone because they are gay or lesbian, even if it violates their religious beliefs. Nearly half (46 percent), strongly oppose giving small businesses the right to discriminate, including 55 percent of white millennials.
Previously, HRC's polling showed after the right to discriminate debate in Indiana that Hoosiers believe businesses should serve all customers equally, even businesses that cite so-called "religious freedom," when denying services to LGBT couples.
In the Senate, Ted Cruz voted against bills that would have created explicit, permanent federal protections against discrimination against lesbian, gay, bisexual and transgender people in the workplace and education. View more on his record at http://www.hrc.org/2016RepublicanFacts/ted-cruz
Ironically, Cruz made his comments at the state fair in Iowa, which became the fourth state in the country to achieve marriage equality in 2009 and which is home to some of the most LGBT friendly municipalities in the nation according to HRC's Municipal Equality Index (MEI).
About the Human Rights Campaign:
The Human Rights Campaign is America's largest civil rights organization working to achieve lesbian, gay, bisexual and transgender equality. HRC envisions a world where LGBT people are embraced as full members of society at home, at work and in every community.