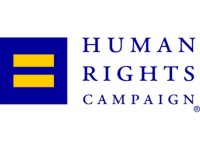 WASHINGTON, DC – Today, the Human Rights Campaign (HRC), the nation's largest lesbian, gay, bisexual, and transgender (LGBT) civil rights organization, hailed PayPal for becoming the latest company to announce public support for the newly introduced Equality Act, a landmark federal bill that would guarantee explicit, permanent protections for LGBT people from discrimination in many of the most important aspects of their lives.
In a statement on its website highlighting its long-time support for domestic partnership benefits, PayPal said, "On an even more fundamental level, we believe everyone deserves to live without fear of discrimination or retaliation for simply being who they are. The provisions in the Equality Act that prohibit discrimination based on sexual orientation or gender identity will bring us another important step closer to the day when these rights are fully enjoyed by all."
Currently, 31 states across the country lack fully inclusive non-discrimination protections for LGBT Americans.
"PayPal has shown how clearly it understands that inclusion leads to innovation and productivity," said JoDee Winterhof, Senior Vice President of Policy and Political Affairs. "In just a few short weeks since the Equality Act was introduced, there has been a drumbeat of companies saying they support the Equality Act because they recognize that equality is good for business and that the time has come for full federal equality."
PayPal joins a number of leading American corporations, including Amazon, American Airlines, Apple, the Dow Chemical Company, Facebook, General Electric, General Mills, Google, HP, IBM, Intel, Levi Strauss & Co, Microsoft, Nike, Oracle, Orbitz, and Symantec Corporation in support of federal LGBT non-discrimination protections.
The Equality Act provides basic protections against discrimination based on sexual orientation or gender identity in employment, access to public spaces, housing, education, jury service, credit and federal funding. HRC polling in March showed that nearly two-thirds of LGBT Americans have experienced discrimination in their personal lives, and that nearly half have experienced discrimination in the workplace. That same polling also showed strong, bipartisan support for a federal non-discrimination law. To learn more about The Equality Act, please visit www.hrc.org/EqualityForward.