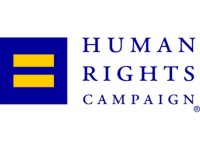 WASHINGTON, DC – Today, the Human Rights Campaign (HRC), the nation's largest lesbian, gay, bisexual, and transgender (LGBT) civil rights organization, responded to comments from Mike Huckabee and Jeb Bush defending Kentucky Clerk Kim Davis, who not only refused to follow the rule of law and issue marriage licenses to same-sex couples, but also refused to permit her deputies to issue marriage licenses.
"Mike Huckabee and Jeb Bush tonight tripped all over themselves trying to be the first to defend government officials who want to ignore the rule of law in order to discriminate against LGBT people," said HRC Senior Vice President of Policy and Political Affairs JoDee Winterhof. "Our next president should defend the Constitutional rights of all Americans, including LGBT people, and fight for full federal equality. Instead, tonight, Jeb Bush and Mike Huckabee continued down the wrong path by saying they want to encourage government officials who deny LGBT Americans their constitutional right to equal treatment under the law."
Bush and Huckabee were joined by Rick Santorum, who at the first debate, made a case for the so-called "First Amendment Defense Act," (FADA). FADA would allow an employee like Kim Davis to argue she was permitted to deny a marriage license to a couple, or allow an employee at the Department of Veterans Affairs to argue that they were not required to process a claim for survivor benefits for the same-sex spouse of a servicemember for personal religious reasons.
HRC's new polling, conducted by GQR for the Human Rights Campaign, found that a bipartisan 68 majority percent oppose allowing government employees to cite their religious beliefs as a reason to deny service to a lesbian, gay, bisexual, and transgender person. Only only 24 percent of Americans support allowing government employees to be able to deny service to LGBT people.
The polling also showed that 60 percent are less likely to support a candidate who supports a bill like the First Amendment Defense Act (FADA) that would allow government employees to argue that they can discriminate against LGBT people for religious reasons.
Prior to that, HRC found that a 55 percent majority of voters are less likely to support a candidate for president who opposes allowing same-sex couples to marry, including 40 percent who strongly oppose. This majority includes Independents, married women and white millennials. All of these groups voted Republican in the last congressional election.
About the Human Rights Campaign:
The Human Rights Campaign is America's largest civil rights organization working to achieve lesbian, gay, bisexual and transgender equality. HRC envisions a world where LGBT people are embraced as full members of society at home, at work and in every community.