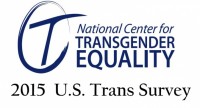 Tomorrow is the final day to take the 2015 U.S. Trans Survey. The Survey is the follow up to the National Transgender Discrimination Survey, the largest survey ever devoted to the lives and experiences of trans people.
The study was developed and conducted by the National LGBTQ Task Force and the National Center for Transgender Equality in 2008- 2009, and the results were released in the 2011 report: Injustice At Every Turn. As the single-most cited study about trans people—cited by media over 15,000 times—it has dramatically changed how the public and policymakers understand the challenges facing trans people.
"This is a critical moment for trans people in America, but there is basic, fundamental knowledge that we do not have," said executive director of the National Center for Transgender Equality, Mara Keisling. "While we're aware that trans people face extraordinary challenges, we cannot discern how frequent or widespread they are without up-to-date data. The survey will provide us with robust, fresh data, which will translate into significant knowledge about the trans community.
The National Transgender Discrimination Survey has been the community's go-to resource for helping the public understand trans people. It's shown us how many trans people have faced discrimination and harassment at school, work, in health care, in homeless shelters, in the criminal justice system, as well as many other areas of life. Going forward, the 2015 U.S. Trans Survey (USTS) will give researchers, policymakers, and advocates the ability to see the experiences of trans people over time, how things are changing, and what can be done to improve the lives of trans people.
The USTS covers a wide range of topics that reflects the lives and experiences of trans people and is designed to more fully examine specific issue areas that disparately impact trans people, such as unemployment and underemployment, housing, health care, HIV/AIDS, disabilities, immigration, sex work, and police interactions. Many of the questions included in the USTS have never been asked of trans people before. Like last time, the data set will be shared with advocates, organizations, and academics for years to come.
For more information or to take the survey, please visit the 2015 U.S Trans Survey web site.
From the Editor: The 2015 survey ends on the 21st of September. So please take it as soon as possible.