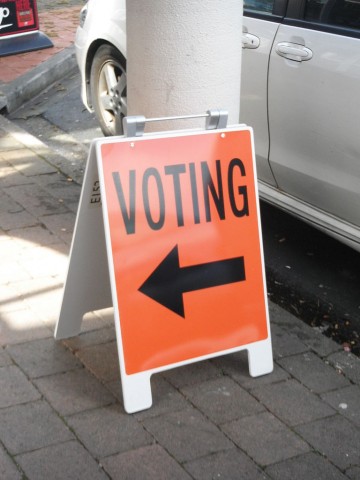 The recent defeat of the HERO ordinance that would outlaw anti-LGBT discrimination in the city of Houston, Texas has been characterized as a triumph of hate over reason. That's true to an extent. No one disputes that hate motivated those who were willing to spend large sums on a campaign against the bill that played on people's fears of predators in restrooms.
However, labeling the wide majority of voters who opposed the bill as "haters" is not just inaccurate, it's dangerous.
Given the success in Houston, our community is likely to face this sort of campaign in the future, and if we wring our hands and bemoan that "haters gonna hate", we're going to keep taking similar beatings. Our best chance to avoid a repeat is to listen to the concerns of those whose ambivalence or opposition brought down the bill, and address those concerns.
Their concerns are valid.
Yes, you read that right. The concerns about bathroom safety that prevented wholehearted support of the bill, are valid, understandable, and need to be addressed. I'm not talking about the unfounded fear that predators will claim to be transgender and be allowed to get away with sex crimes. That has never happened in any place that trans people have achieved equal rights. 
But take a moment to imagine:
You're a bar owner struggling to keep your small business going. One day, a male customer goes in to use the ladies' room. You don't know him, though you think he might be from a neighboring bar that competes with you. Can you ask him to use the men's room? Or does that risk a lawsuit? He does this again a few days later, and again a few days after that, and you notice that the number of female patrons decrease. Your bottom line suffers, and you suddenly find yourself operating at a loss.
Given the sort of stunts that guys pull, this scenario is just not that far fetched. Even if it doesn't happen, the fear leaves business owners feeling vulnerable. There would be considerable uncertainty about what they can and can't allow.
Or perhaps this:
You're a woman who has been a victim of sexual assault. The presence of a man makes you uncomfortable. You go into the ladies' restroom at your place of work and you notice a male customer standing there. You don't know why he's there or what he's waiting for. You report him to your management who don't want to do anything about it. "He's not doing anything wrong. We don't want to be sued." You're wondering whether you'll need to find a new job.
There are no such cases known, but it's not clear that such a case would even be reported, or to whom. Given the extent of human variation and the remarkable variety of abnormal reasoning, these are not far-fetched enough situations to call someone who has those concerns an alarmist or hatemonger. They are legitimate fears that could lead a logical person to oppose any bill that makes them a potential reality. It is possible to support the right of transgender people to use the restroom safely while at the same time to want a law that does not put business owners in fear of lawsuits when there is a restroom issue with someone who isn't transgender.

If we are to avoid future fiascoes similar to the HERO defeat, we need to stop labeling these concerns as the ravings of haters. We need to come up with ways to reassure people not just that those nightmare scenarios would be unlikely, but that that they couldn't happen because the law allows latitude to take reasonable action. To do that, we need a law that leaves people feeling empowered to deal with a situation where a man who isn't transgender accesses a women's restroom for questionable purposes.
The most important lesson of the HERO defeat is that we need laws that allow legitimate uses of restrooms while unambiguously supporting those whose job it is to ensure people feel comfortable using public facilities. To be acceptable, such a law must:
Maintain our current single-sex restroom structure that the vast majority of people favor.

Allow transgender people at all stages of transition to use the restroom safely and comfortably.

Not require any proof of gender or standard of appearance.

Protect those who seek to address a legitimate concern about someone using a restroom where they don't belong.
Is it possible to come up with such a law? Maybe, but only through dialog and willingness to listen to others' ideas. If opponents can successfully portray us as recklessly pushing a dangerous agenda, and we insist upon portraying them as unreasonable haters, it will be impossible.