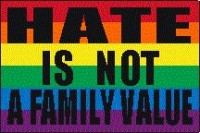 Washington D.C. – Bob Vander Plaats and leaders of Iowa's worst anti-LGBT group, the Family Leader, endorsed Ted Cruz in the 2016 presidential election on 10 December. Cruz and Vander Plaats share a long and repugnant history of anti-LGBT rhetoric and activism, and today's endorsement puts Cruz even farther outside the American mainstream in a state that's had marriage equality for six years.
Vander Plaats said he will ask the next president to ignore the Supreme Court's ruling that made marriage equality the law of the land. Cruz has supported a bill that would strip the courts of jurisdiction on marriage equality.
Vander Plaats compared being LGBT to a public health risk, like smoking. "If we're teaching the kids, 'don't smoke, because that's a risky health style,' the same can be true of the homosexual lifestyle. That's why I think we need to speak the truth once in a while." Cruz says that  "I believe that engaging in homosexual conduct is a choice."
Vander Plaats led a campaign to recall three Iowa Supreme Court Judges who ruled in favor of marriage equality. Cruz attacked a fellow Republican for marching in a pride parade, saying, "When a mayor of a city chooses twice to march in a parade celebrating pride, that's a statement – and it's not a statement I agree with."
Vander Plaats smeared transgender people and falsely suggested they would assault people in restrooms. Cruz has ramped up the transphobic rhetoric in recent weeks, calling efforts to drop the ban on transgender people serving in the military as "lunacy" and "nutty."
About the Human Rights Campaign:
The Human Rights Campaign is America's largest civil rights organization working to achieve lesbian, gay, bisexual, and transgender equality. By inspiring and engaging all Americans, HRC strives to end discrimination against LGBT citizens and realize a nation that achieves fundamental fairness and equality for all.