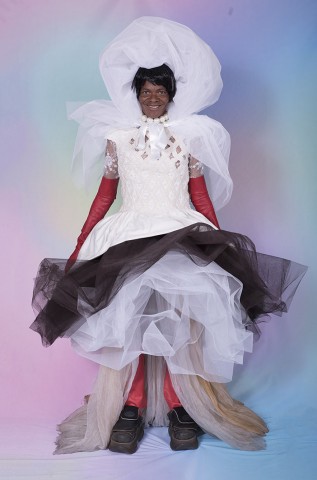 Tangerine eat your heart out! Last night the Amsterdam museum for photography FOAM started an exhibition of the photo series Sistaaz of the Castle, created by fashion designer Duran Lantink and artist/ photographer Jan Hoek. For this series, the two travelled to South Africa, where they were inspired by transgender sex workers. Via SWEAT, a local organization for sex workers, they were introduced to the ladies of Sistaazhood.
Most of them are homeless and live under a bridge close to the Castle of Good Hope in Capetown. Duran and Jan were inspired by the way in which these women can make the most beautiful creations out of garments they found on the street. He recognized similarities with his own process, applying different recycling methods and collage techniques.
For six of the girls, it was a dream come true: apart from photographing their daily lives, Lantink designed the outfits they'd like to wear if they had limitless possibilities: he created a wedding dress for the grandmother of the group, another dreamt of working in a luxurious Victorian brothel and a third wanted to be miss Africa. All these desires were translated into a couture collection and photographed by Jan Hoek.
Lantink to Vice: "All ladies were enthusiastic about the project. They love fashion and make-up and enjoy being the center of attention.They were all very happy with this opportunity, because they wanted to positively depict transgender sex workers in the media. The first day we did a workshop with them, in which they could make new outfits out of old garments. After that, we let them describe the outfit of their dreams. Out of these descriptions, we selected six. They became our muses and now are the faces of our collection."
"I think it's important to make people think", Hoek continues. "This photo series partially contains a statement, but it's first and foremost about putting these girls in a positive light. Being transsexual is still not done in South Africa. Obviously, that's ridiculous. even in Capetown they aren't accepted. We wanted to show that these people also have dreams"
The photo series 'Sistaaz of the Castle' is exhibited from the 13th until the 20th of January in Foam. The 16th of January, the couture collection will be presented on the catwalk of the Amsterdam Fashion Week. Apart from that, unique fan shirts of the girls will be for sale in clothing store Concrete at the Spuistraat in Amsterdam