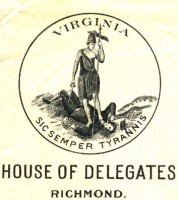 Republican Mark Cole of Virginia has introduced a bill that would require schools "to be certain that children are using the restroom corresponding to their '"correct anatomical sex."' The bill would prohibit transgender children from using the restroom matching their gender.
House Bill 663 defines "anatomical sex" as "the physical condition of being male or female, which is determined by a person's anatomy."
From the Bill: "Local school boards shall develop and implement policies that require every school restroom, locker room, or shower room that is designated for use by a specific gender to solely be used by individuals whose anatomical sex matches such gender designation."
Students violating the bill could be fined $50 by law enforcement officers. The bill would also allow law enforcement to fine anyone who knowingly used a public restroom that did not correspond to their "anatomical sex."
Most disturbing about this bill is that adults would be required to inspect the genitalia of children prior to allowing them to use the restroom for this bill to be enforceable (this provision is not explicitly laid out in the proposed legislation but how else could it be enforced?). Yes, ladies and gentleman; your children would have to submit to invasive checks of their genitals before relieving themselves.
"This is what the conservative movement has devolved into: forcing children to allow adults to examine their genitals out of misplaced fear that transgender kids and adults might commit a hypothetical never-before-seen act of violence or sexual aggression (that would still be against the law with or without transgender protections)," according to civil rights advocate, Tim Peacock.
In every single state or municipality in which bathroom protection laws have been instituted there have been zero reported instances of assaults or rapes committed by gender-variant adults or children. It's transgender or gender non-conforming people who have reported very high percentages of assault or being prevented from using the bathroom.
There is nothing more than Conservative hate-mongering and moral panic. If this passes then Virginia parents will have to allow adults to grope their children to make sure they are using the proper washroom. More GOP small government at work for you!
Keep an eye on Virginia state job postings: one day they may advertise positions for School Genital Inspectors.