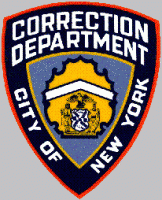 Chanel Austin, 36, is planning on suing the city of New York for $3 million for not protecting her from male inmates at Rikers Island last Spring.
Austin was arrested in March of 2015 on Grand Larceny charges and was unable to pay bail. She was put in the 30-bed transgender unit at Rikers Island at first, before suddenly being moved out of that unit and placed into an all-male unit after another inmate stole her Walkman. It was then that her ordeal began.
"I begged for them to please not move me," she recalled. "Tragically, I already knew it was going to be a problem."
She says one inmate broke a chair over her back, another tried to rape her, and others threw urine and feces into her cell.
The attacks began soon after she was transferred. One day she came back to her cell to find urine had been thrown into it. They only escalated from there.
On 16 May, one inmate who had attempted to come on to her became violent. As she was going to the payphone to make a call when "all of a sudden something just hit me in the back," she said. She was beaten in the back by a chair and then punched in the face by another inmate.
She reported this assault to prison authorities and was transferred to another all-male unit where she almost immediately began receiving threats of sexual assault that culminated in an inmate coming into her call the night of 18 May.
"He said to me, 'I want you. Like, I'm gonna make you mine,' " Austin said.
According to Austin, he groped her, threw her against a wall and attempted to choke her.
"He was trying to rape me," she said.
She reported this assault to prison authorities, despite not knowing the name of the other inmate and was later transferred back to the transgender unit.
Austin filed a Notice of Claim against the city in July, seeking $3 million, alleging that she repeatedly notified prison authorities of the ongoing threats and violence and was ignored.
Her lawyer, Matthew Waller, said that he plans to file suit in federal court this week.
"Her constitutional rights were violated in these instances — because of her gender, this is what she was exposed to," Waller told the Daily News.
The Department of Corrections, citing possible litigation, refused to discuss the case.
"Commissioner (Joseph) Ponte has zero tolerance for the abuse or mistreatment of any inmate," said department spokeswoman Beth Seibold.