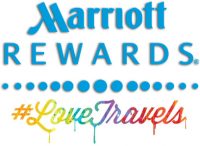 Bethesda, MD – Marriott Rewards is launching a creative movement to amplify support for the lesbian, gay, bisexual and transgender (LGBT) community through a powerfully vibrant art installation that encourages everyone to see themselves and to be themselves. #LoveTravels' newest chapter will lend support directly to transgender lives and leaders through the dedication of the art installation.
This pride season, in an evolution of the award-winning #LoveTravels campaign, Marriott invites travelers around the world to create and share expressions of love – however personally defined. Each painting, doodle, photograph and hand-written message using #LoveTravels and #MyPride submitted through May 25, 2016 will become part of Marriott's collaborative art installation that will be unveiled before Capital Pride next month in Washington, D.C.
Marriott Rewards has also enlisted popular social media ambassadors and LGBT supporters from around the world to spread the #LoveTravels message including Jazz Jennings (TLC's "I am Jazz"), Miles Jai (@MilesJaiProductions on YouTube), Pepe y Teo (one of Mexico's most popular LGBT YouTubers), Shannon Beveridge and Cammie Scott (creative couple behind YouTube's "Now This is Living"), and Trent and Luke (married YouTube couple from the UK).
"Art is a universal language that evokes passion and spurs travel," said Stacey Milne, Vice President of Portfolio Marketing Strategy & Planning, Marriott International. "We want to see what #LoveTravels means to people all around the world by inviting them to share their artistic expressions of love, as one collective voice, this Pride season."
Visual and written expressions using #LoveTravels and #MyPride on Instagram and Twitter will be included in the global art installation. For each submission Marriott will make a donation to Casa Ruby, the only bilingual multicultural LGBT organization providing lifesaving services to many of the most vulnerable transgender residents of Washington, D.C. The funds will help support Casa Ruby's Drop-In and Crisis Intervention Center, as well as their Limited Financial Assistance program for those enrolled in career and employment services and to those facing extreme financial hardship.
"Being part of the #LoveTravels movement is very rewarding for the whole family at Casa Ruby and especially our transgender community," said Ruby Corado of Casa Ruby. "To see brands like Marriott International inspire the LGBT conversation and show their support for equality and love is a sign of change in the world. We are excited to tell our story and to be a part of this global movement to spread the #LoveTravels message far beyond the LGBT community."
While a vast majority of people will participate virtually by sharing artwork on Instagram and Twitter, #LoveTravels art boxes filled with a canvas and paints will be sent to partner organizations around the world so they can contribute to the installation. Marriott Rewards will also host expressions sessions at Casa Ruby in Washington, D.C. and Marriott International Corporate Headquarters in Bethesda giving associates of both organizations a chance to express their support. Liquitex, creators of the first water based acrylic paints is providing all supplies for each expression session and the #LoveTravels art boxes.
#LoveTravels kicked off in 2014 with Jason Collins, Geena Rocero, Tim Howard and Angela Simmons celebrating travelers exploring their personal passions and acclaiming their unique perspectives and experiences. It continued into 2015 with Hollywood star Diane Guerrero (OITNB, Jane the Virgin). During Capital Pride 2015, Marriott Rewards celebrated marriage equality by marrying George Carrancho and Sean Franklin in the Capital Pride Parade with TV personality Ross Mathews as officiant.
To join the conversation or learn more, travelers can visit www.lovetravelswithme.com, follow #LoveTravels and @MarriottRewards on Facebook, Instagram and Twitter.
About Marriott Rewards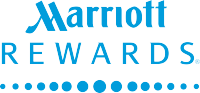 Marriott Rewards is Marriott International's award-winning loyalty program spanning 17 brands and over 4,300 properties worldwide. Marriott Rewards is free to join and has no blackout dates and members can earn and redeem points at Marriott International properties around the world and at Marriott Rewards exclusive luxury partner The Ritz-Carlton®.  Members can also redeem points for frequent flyer miles, cruises, car rentals, merchandise and more. By making rewards accessible with a modern, easy approach, Marriott Rewards continues to be a leader in the industry. Marriott Rewards has won the Freddie Award for "Best Hotel Rewards Program in the Americas" for the last nine years and is a two-time winner of the Frequent Travel Award for "Best Hotel Rewards Program." The program was ranked #1 in J.D. Power's 2016 Hotel Loyalty/Rewards Program Satisfaction Report. In addition, the program has been named best hotel rewards program by the readers of U.S. News & World Report, About.com, Business Traveler, Global Traveler, Executive Travel and BusinessWeek magazines. To enroll and for more information about Marriott Rewards, guests can visit MarriottRewards.com.
About Marriott International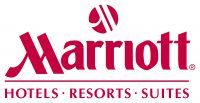 Marriott International, Inc. (NASDAQ: MAR) is a global leading lodging company based in Bethesda, Maryland, USA, with nearly 4,500 properties in 87 countries and territories.  Marriott International reported revenues of more than $14 billion in fiscal year 2015. The company operates and franchises hotels and licenses vacation ownership resorts under 19 brands. The company also manages the award-winning guest loyalty program, Marriott Rewards® and The Ritz-Carlton Rewards® program, which together comprise more than 56 million members. For more information or reservations, please visit our website at www.marriott.com, and for the latest company news, visit www.marriottnewscenter.com.
About Casa Ruby
Casa Ruby (www.casaruby.org) is the only bilingual multicultural LGBT organization led by trans women of color providing life-saving services and programs to the most vulnerable in the LGBT community. Our mission is to create successful life stories among transgender, gender queer and gender non-conforming gay, lesbian and bisexual people. Casa Ruby was incorporated as a nonprofit in 2004, serving the greater Washington DC metro area.