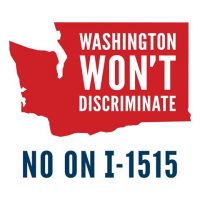 Washington, DC – Forces attempting to repeal Washington State's decade-old policy ensuring nondiscrimination protections for transgender residents have failed to collect the requisite number of signatures necessary to put I-1515 on the November ballot.
"The people of Washington have made clear there's no place for discrimination in their state," said Kasey Suffredini, chief program officer of Freedom for All Americans and director of the organization's Transgender Freedom Project. "Despite months of anti-transgender attacks by legislatures across the country, today's announcement reflects the prevailing notion among ordinary Americans that transgender people make important and valuable contributions to society, and that we are deserving of the same respect and dignity as everyone else. No one should face discrimination for being who they are. Fairness is both a Washington value and an American value."
Freedom for All Americans is a founding partner and member of the executive committee of Washington Won't Discriminate, the broad coalition of groups opposed to I-515. Freedom for All Americans has contributed to the coalition in the form of general strategy, communications outreach, digital and field support, and business recruitment. Although I-515 did not qualify for a ballot referendum this year, Washington Won't Discriminate will continue to mobilize public support for protecting the state's nondiscrimination laws from future attacks.
In June, Joseph Backholm, director of the Family Policy Institute of Washington, gained notoriety after a tape surfaced of him asking male anti-transgender petition gatherers to stalk and follow women into restrooms and intimidate them into signing the petition, stating: "For the gentlemen, what I would encourage you to do, if you are so bold and to make the point, take your petition and stand outside the women's restroom at the mall. If any of the women don't want to sign it, just go ahead and follow them in [laughter from crowd]. Maybe this will be a better time to sign our little petition, and we can make the point that way."
Backholm's direction was not only dangerous, but illegal, as the King County sheriff pointed out to local news agencies.
The news in Washington comes on the heels of a momentous few weeks for the transgender rights movement, including:
The end of the Pentagon's ban on openly transgender service members in the military;
An executive order by New Hampshire Governor Maggie Hassan banning state agencies and contractors from discriminating against transgender individuals;
A U.S. District Court ruling striking down Mississippi's anti-LGBT law;
And legislative movement in Massachusetts just today paving the way for the Republican governor to sign a bill making it the 18th state with full transgender protections
Freedom for All Americans today launched a virtual resource and infographic illustrating the interwoven relationships between anti-LGBT activists and organizations working to pass laws that harm LGBT people. The resource, titled "Enemies of Equality," can be found here: www.freedomforallamericans.org/EnemiesOfEquality
About Freedom for All Americans

Freedom for All Americans is the bipartisan campaign to secure full nondiscrimination protections for LGBT people nationwide. Our work brings together Republicans and Democrats, businesses large and small, people of faith, and allies from all walks of life to make the case for comprehensive nondiscrimination protections that ensure everyone is treated fairly and equally.