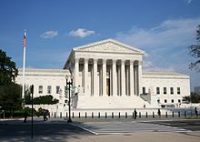 Today the Supreme Court of the United States issued a one sentence statement that they would not hear the Gavin Grimm case which was scheduled for 23 March.
The court dealt another blow to Gavin's case by vacating an appeal's court decision in his favour. The case has been sent back to a lower court for further consideration after the Trump administration issued new guidelines in regards to bathroom use for transgender students.
The court had originally agreed to hear the case October of last year, marking what would have been the first time the Supreme Court heard arguments on transgender issues.
Gavin, who identifies as male, had brought the original suit against the Gloucester County school system for refusing to allow him to use the boys' bathroom in high school. His case was in response to the Obama administration's interpretation of a 1972 law that bans discrimination on the basis of sex in schools that receive federal funding. The administration stated that the protection of Title IX also included gender identity.
In 2015 the Department of Education stated that schools must treat transgender students in a manner "consistent with their gender identity." The Trump administration reversed that guidance last month.
Now Gavin's case must again make its way from the lower court to the Supreme Court which is likely to have a full bench of nine judges with Trump's nomination of Neil Gorsuch to fill the seat left vacant after the death of Justice Antonin Scalia.