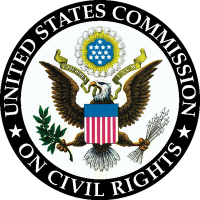 Washington, DC – On November 29, the U.S. Commission on Civil Rights released Working for Inclusion: Time for Congress to Enact Federal Legislation to Address Workplace Discrimination against Lesbian, Gay, Bisexual, and Transgender Americans. The report, based on testimony and written materials submitted to the Commission, along with extensive social science research and surveys, reflects the reality that many LGBT Americans experience prejudice and discrimination in the workplace.
Key findings and recommendations from a majority of the Commission include:
Lesbian, gay, bisexual, and transgender (LGBT) workers have faced a long, serious, and pervasive history of official and unofficial employment discrimination by federal, state, and local governments and private employers.
Federal data sources do not effectively capture rates of LGBT employment or rates of LGBT employment discrimination.
An inconsistent and irreconcilable patchwork of state laws against anti-LGBT workplace discrimination and federal court decisions interpreting existing law render LGBT employees insufficiently protected from workplace discrimination.
Federal data sources such as the Census, American Community Survey, and federal agency surveys should include sexual orientation and gender identity questions in population-based surveys of the workforce.
Federal agencies should issue or, where relevant, reaffirm specific guidance for federal and private employers outlining protections for LGBT employees, including specifically enumerating protections for transgender persons.
The Commission evaluated rates of LGBT employment and employment-related discrimination, arguments for and against enacting federal legislation to address this discrimination, and the landscape impacting legal protections available to LGBT Americans at work.
A 2013 poll by Project Right Side and Americans for Workplace Opportunity found that a majority of people (88 percent), regardless of political affiliation, agreed that LGBT individuals should be evaluated based on workplace performance. Businesses have attested that implementing nondiscrimination protections for LGBT individuals does not result in substantial additional costs.
Notwithstanding this broad consensus, 28 states offer no sexual orientation or gender identity protections; of the 22 states that do protect LGB employees, two exclude transgender employees from protection.
Chair Catherine E. Lhamon said, "Living up to the American ideal of fairness and equity demands federal statutory protection for LGBT employees, actively and consistently enforced across the federal government and lived in employees' workplace experience. We call on Congress to act now to ensure that it leaves no gap in the fabric of federal civil rights protection for LGBT employees."
We had a dramatic fall off in donations and subscriptions last month, and based on experience from previous years this is likely to run through at least April.
Last month we received a total of $1,153.00 in donations, a shortfall of $1,347.00; It takes around $2,000 each month to pay the bills for the site ($600.00) and provide my small stipend ($1,400.00).
With the short fall and site's direct expenses paid, the remainder barely covers my rent, leaving me with just $104 with which to cover Food, Utilities, transportation, Hormones, entertainment, etc. I personally received 35% of what I should have made last month.
Ask yourself could any of you survive with those kind of financial losses? Based on current numbers I have worked for over a month and a half this year without receiving any compensation at all.
As it sits now we would have to receive $2,651.45 in December to break even on the donation goal for the year (which does nothing more than pay the bills).
I have no choice but to ask the members to please step up and help the site reach at least this amount. However we really need to plan on exceeding it to help cover the next few months of projected shortfalls. Your assistance would be appreciated, ever dollar helps!
About the U.S. Commission on Civil Rights

The U.S. Commission on Civil Rights, established by the Civil Rights Act of 1957, is the  only independent, bipartisan agency charged with advising the President and Congress on civil rights matters and reporting annually on federal civil rights. For information, please visit http://www.usccr.gov.