Los Angeles, CA – Grindr, the world's largest queer mobile social network, recently announced changes to its app to be more inclusive of transgender users. The changes include profile fields for gender identity and pronouns, system-wide gender-neutral language, and an FAQ to help non-transgender users interact respectfully. They were informed by a community engagement process that centered the voices and needs of transgender people through a survey of transgender users and a formal consultation with the National Center for Transgender Equality. Grindr implemented the update to users worldwide at the end of Transgender Awareness Week, and brought on transgender activist, writer, actress, and producer, Jen Richards, to feature in a new video promoting the changes.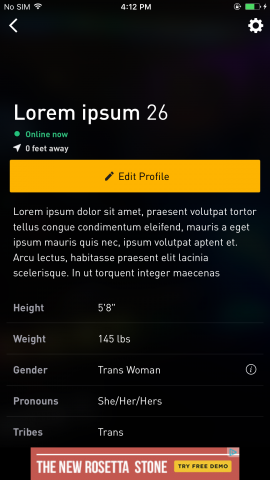 "As the largest global queer social network, Grindr has always had trans men, trans women, and non-binary users on the app. We are proud to release these updates to our core functionality to firmly establish that we are committed to making Grindr a welcome and safe space for all trans people," said Peter Sloterdyk, VP of Marketing at Grindr. "To ensure we heard from a range of trans people, we polled trans users and consulted transgender community leaders to guide our thinking."
Starting recently, the app and website copy have been updated to include gender-neutral terms. Grindr users will also notice a new "Identity" section in their user profile that includes options for listing their gender and pronouns. Users can pick from a list of common gender identities like "trans man," "woman," "cis man," "non-binary," "non-conforming," and "queer." Users will also have the option to write in their gender identity if it doesn't already appear on the list. Pronouns can also be included on the new profiles including "He/Him/His," "She/Her/Hers," "They/Them/Theirs" or users can specify pronouns not listed.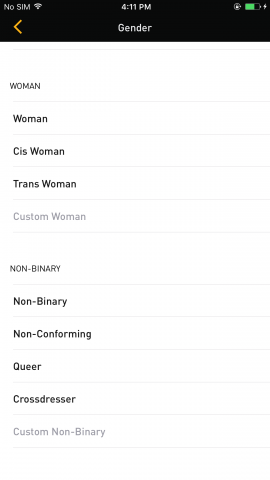 "One thing we heard over and over again from trans people using Grindr was that they felt unwelcome as other users would often only want to ask them about what it means to be trans or approached without knowing how to speak respectfully about trans issues," said Jack Harrison-Quintana, Director of Grindr for Equality. "That's why we created written resources linked from the gender identity fields in the profile to answer users' questions and decrease that burden on trans people."
The resources address a number of questions from "What's the difference between trans and intersex," to "Is it ok to ask a trans person about their birth name?" and "Why do some people want to be called they?"
These new features are a part of Grindr's long history of working to be more inclusive of transgender users. In October 2013, when Grindr first introduced "Tribes," the company included "Trans" in the list of tribes available creating official space for its transgender users. The company itself has also been certified as a Transgender Friendly Workplace by TransCanWork.
ABOUT GRINDR  

With over 3 million daily active users in every country in the world, Grindr is the largest LGBTQ mobile social network. Since its launch in 2009, Grindr has grown to become a fundamental part of users' daily lives globally. The company continues to expand their ecosystem to enable all users to connect to the world around them. Through INTO, a digital content channel for and by the LGBTQ community, various events, and experiential opportunities, Grindr is helping users engage across the spectrum.
Headquartered in West Hollywood, California, Grindr is powered by a team of over 100 employees. A Certified Transgender-Inclusive Business, Grindr encompasses a diverse and passionate family of makers, innovators, leaders, and most importantly, doers. Grindr employees are fueled by an endless curiosity, an ability to embrace change, a respectful and collaborative work environment, and a knack for crossing every finish line.
Grindr is proud to have been recognized by Fast Company as one of the ten "Most Innovative Social Media Companies in 2016" and by Forbes as a "model for corporate social responsibility."