Washington, DC – 37% of Americans personally know a transgender person according to a recent Pew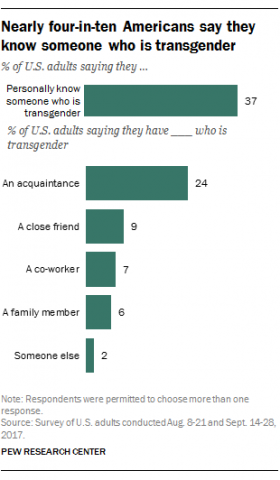 Research Center study conducted in August and September of 2017. 6% of the respondents stated they have a transgender Family member.
Knowing a transgender person is divided by age, with 44% of Millennials stating they know a transgender person compared to only 21% in the age group above 72 years and 34% / 36% for the age group between 37 years and 71 years.
The survey did allow for multiple answers when classifying the contact, ranging from 24% for an acquaintance, 7% for a co-worker and 2% for someone else.
About the Pew Research Center
Pew Research Center assists journalists by providing timely information on the issues, attitudes and trends shaping the world. As a neutral source of data and analysis, the Pew research Center does not take positions on policy issues. All of their reports are publicly available online.
All data and the graphics in this article have been used with permission of the Pew Research Center. The original study has been published here.