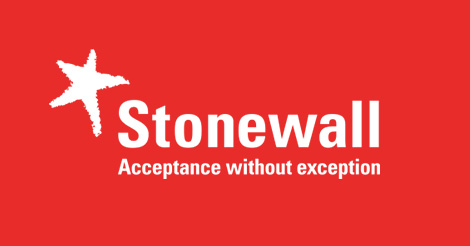 London, UK – Stonewall reveals Britain's best employers for trans and non-binary staff as it releases its annual list of Top 100 LGBT-inclusive employers.
Stonewall's annual review has this year, for the first time ever, marked employers specifically on trans inclusivity, in addition to their work on lesbian, gay and bi inclusive policies.
The National Assembly for Wales has taken the number one spot for the first time, after coming fifth in last year's list.
The Assembly, as well as having a range of inclusive policies and practices for lesbian, gay and bi staff, has this year introduced a raft of measures to improve the workplace for trans staff.
Examples include updating their workplace systems to offer an Mx title as well as a space for staff to give their own gender term on forms.
The Assembly have also introduced gender-neutral facilities across the entire organisation and created innovative and inclusive training and policies that demonstrate a true commitment to LGBT, including non-binary, staff.
Elin Jones AM, Llywydd of the National Assembly for Wales, said: 'We are truly honoured to be recognised by Stonewall as the leading employer for lesbian, gay, bi and trans people.
'The National Assembly has diversity and inclusion at the very heart of its role representing the people of Wales.
'We are proud to support our LGBT staff network and continue to work to create an inclusive culture – not only for the people who work here but for the people we represent across all Wales' diverse communities.
'As Wales' parliament, it is right that we should lead by example to demonstrate what can be achieved with the right attitudes, leadership and determination.
'This is not only a great day for the Assembly, it's also good news for staff in the many other Welsh organisations represented in the top 100 employers. They demonstrate people in Wales clearly understand the value of inclusive policy and service delivery and I congratulate them all.'
More than 400 employers were in contention to get a coveted spot in this year's Top 100 LGBT inclusive employers list. The top 10 employers were a diverse mix of organisations, with representation from both the public and private sectors. The full list is below.
To mark the new trans-inclusive focus of the Top 100, Stonewall has also named Britain's top trans-inclusive employers. This is a list of organisations that have gone above and beyond to ensure trans staff feel accepted. The full list is below.
This comes at a time when trans and non-binary people are facing a daily onslaught of abuse both in their private lives and in the public sphere.
Earlier this month Stonewall released research that showed half of trans people (51 per cent) have hidden their identity at work for fear of discrimination or abuse and that one in eight trans employees (12 per cent) have been physically attacked by colleagues or customers in the past year.
Ruth Hunt, Stonewall's Chief Executive, said: 'At a time when LGBT people are subject to profound discrimination and abuse, both in and out of the workplace, our LGBT-inclusive employers are a welcome beacon of hope that a positive future is possible.
'The National Assembly for Wales is a trailblazer for equality, especially for trans equality, and we'd like other organisations to look at the straightforward, positive actions they have taken and follow the example they have set.
'Creating a workplace environment that accepts everyone isn't just the right thing to do, it makes good business sense. When staff feel comfortable, happy and understood they will, of course, perform much better than if they're having to hide who they are, or if they're scared to go to work for fear of abuse.
'All leaders, managers – all of us as colleagues – can stand up for LGBT people in the workplace and play a part. We can all play a part in changing our workplaces and our communities so that all LGBT people are accepted without exception.'
This year's list also saw media and manufacturing represented on the Top 100 list for the first time in recent years.  Sky came in at 29 and GSK made a strong new entry, coming in at 21 on the list.
As part of the Top 100, Stonewall also collects more than 92,000 anonymous responses from employees on their experience of Britain's workplace culture and diversity. It's one of the largest national employment surveys in Britain. A massive 91 per cent of non-LGBT employees who responded to the survey, say they understand why their employer is committed to LGBT equality.
Each year, Stonewall also names individuals and groups who have made a significant contribution to LGBT inclusion in their workplace. The full list is below.
Stonewall's Top 100 is compiled from submissions to the Workplace Equality Index, a powerful benchmarking tool used by employers to assess their achievements and progress on LGBT equality in the workplace.
More than 430 organisations took part in this year's index.
Each organisation must demonstrate their expertise in 10 areas of employment policy and practice, including networking groups, senior leadership, procurement and how well they've engaged with the LGBT community.
Top 10 LGBT-inclusive Employers:
1. National Assembly for Wales
2. Pinsent Masons
3. Gentoo
4. Cheshire Fire and Rescue Service
5. Lloyds Banking Group
6. Baker McKenzie
7. Berwin Leighton Paisner
8. Citi
9. Newcastle City Council
10. Victim Support
Top trans-inclusive employers (unranked):
• Baker McKenzie
• Berwin Leighton Paisner
• Cardiff University
• Gentoo
• Lloyds Banking Group
• National Assembly for Wales
• Pinsent Masons LLP
• Swansea University
• The University of Manchester
• Victim Support
• Your Homes Newcastle
Top performing organisations in each sector are:
• Banking and Finance: Lloyds Banking Group (5)
• Defence and Security: Royal Navy and Royal Marines (32)
• Education: Cardiff University (14)
• Emergency Services: Nottinghamshire Police Headquarters (39)
• Government: National Assembly for Wales (1)
• Health and Social Care: North East Ambulance Service NHS Trust (46)
• Housing: Gentoo (3)
• Insurance: Aviva (98)
• Legal: Pinsent Masons (2)
• Leisure and Arts: Tate (67)
• Local Government: Newcastle City Council (9)
• Manufacturing: GSK (21)
• Media: Sky (29)
• Professional Services: PwC (33)
• Retail: Vodafone (42)
• Technology: Fujitsu Services Limited (100)
• Third Sector: Victim Support (10)
Individual award winners:
• Lesbian Role Model of the Year* was awarded to Natasha Franklin, Unit Manager Health Protection, Bury Council
• Gay Role Model of the Year* was awarded to Krishna Omkar, Associate, Slaughter and May
• Bi Role Model of the Year* was awarded to Clare Eastburn, Director, Global Head of Operational Regulatory Change, Citi
• Trans Role Model of the Year* was awarded to Jack Jackson, Team Leader for Mental Wellbeing and Counselling, Betsi Cadwaladr University Health Board
• Senior Champion of the Year* was awarded to Narind Singh, Partner, Clifford Chance
• Ally of the Year* was awarded to Andy Holmes, Supervising Officer, HMP Stafford, Ministry of Justice
• LGBT employee Network Group of the Year was awarded to Vodafone LGBT+ Friends Network
*Award definitions:
• 'Senior Champion' – a senior member of staff within an organisation that champions LGBT equality
• 'Ally' – a member of staff that does not identify as lesbian, gay, bi or trans but that champions LGBT equality
• 'Role Model' – an LGBT member of staff that is visible within an organisation and goes above and beyond to champion LGBT equality
About Stonewall
We're here to let all lesbian, gay, bi and trans people, here and abroad, know they're not alone.

We believe we're stronger united, so we partner with organisations that help us create real change for the better. We have laid deep foundations across Britain – in some of our greatest institutions – so our communities can continue to find ways to flourish, and individuals can reach their full potential. We're here to support those who can't yet be themselves.
But our work is not finished yet. Not until everyone feels free to be who they are, wherever they are.