Alachua County, Fl – Sheriff's deputies in Alachua County, Florida are investigating a potential hate crime after someone spray-painted "Move or Die Tranny [expletive]" on the garage door of a Newberry couple overnight Thursday. According to an article appearing in The Gainesville Sun, a Sheriff's deputy on patrol in the neighborhood discovered the vandalism in the early morning hours Friday and alerted the homeowners, Liz and Alecia Abel.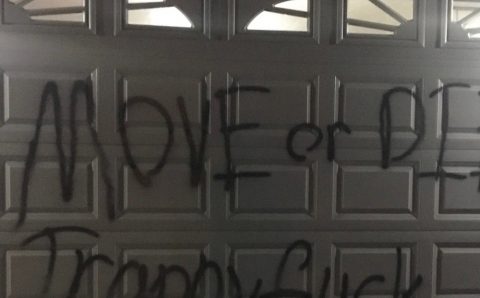 "My wife only came out as a transwoman a few months ago" Liz stated in an interview with Susan's Place staff. "It's pretty overwhelming that someone would target us like this, as very few people know." Both Liz and Alecia indicated they suspect the perpetrator is a youth, most likely someone from the neighborhood.
"Honestly, my first response was, 'Really?'", Alecia said, indicating her disbelief that someone had done this.
Earlier in the day Thursday, Abel says the couple found a sticky note on the garage door making a similar threat, which Alecia took down and destroyed. "I didn't take the first one very seriously, I took the second a little more seriously," Alecia admitted. According to Liz, this is the first time the couple has experienced this type of discrimination in their community.
As of Monday morning, an official with the Alachua County Sheriff's Office told Susan's Place that there are currently no updates in the case. Alecia told The Gainesville Sun that she didn't think the perpetrator would be caught since there was no video surveillance of the incident.
While the Sheriff's department continues its investigation, many members of the community in Newberry have shown their support for the Abels.  According to a GoFundMe page set up by Liz, two men have already repainted their garage door using paint provided by a local retailer at a substantial discount. Another person installed a Ring camera system at their home. The Mayor of Newberry even stopped by to check on the couple.
"He took time out of his day to say are you guys ok, is there anything we can do?" Alecia recalled, "It was a typhoon of love and support."
Melina Farley-Barrat, a transgender activist in Gainesville, read about the threats on the Gainesville Sun's website. She organized a protest that took place Saturday morning, reaching out to local supports and online communities.
Barrat said she hoped the protest would send the message, "We are people, we are here, we have support, we are not going away, and that's okay."
According to Barrat, the greater Gainesville area has many resources for LGBTQIA+ people, and they have seen an increase in acceptance and understanding. "We are the place to go in North Florida. Services are present and expanding" she said.
Stories of threatening behavior and hate crimes toward transgender people have the potential to cause fear and anxiety among members of the transgender community.  However, Barrat offered some words of reassurance for anyone feeling threatened, "I'd quote my good friend Callie Wright of the Gaytheist Manifesto Podcast, 'If you're lost, you're hurting, you're scared, if you feel like no one cares and no one understands, you need to know there's a community out here that loves you, cares for you, knows that you are capable of amazing things and that you are worthy of love. If you're struggling, please don't be afraid to reach out. '"
The Abels' story could be viewed as another unfortunate case of transphobic behaviors that are prevalent in our society. However, it can also serve as reassurance of the growing acceptance the transgender community has received in recent years. Liz told us, "This is a terrible way to meet people, but I am thankful for all the support and love we have seen from folks." Alecia described it similarly, "I hate to say it was a positive experience but it actually was."
References:
https://www.gainesville.com/news/20180907/deputies-investigating-transgender-hate-crime
http://www.wcjb.com/content/news/Victim-of-hate-crime-against-transgender-people-speaks-out-492775821.html