In response to a story by The New York Times about efforts within the Trump administration to eliminate the rights of transgender people, Mara Keisling, executive director of the National Center for Transgender Equality, issued the following statement:
"This proposal is an attempt to put heartless restraints on the lives of 2 million people, effectively abandoning our right to equal access to health care, to housing, to education, or to fair treatment under the law. This administration is willing to disregard the established medical and legal view of our rights and ourselves to solidify an archaic, dogmatic, and frightening view of the world. This transparent political attack will not succeed administratively, legally, or morally.
In the name of preempting some misinformation, let's talk about what this proposed rule would not do. It would not eliminate the precedents set by dozens of federal courts over the last two decades affirming the full rights and identities of transgender people. It would not undo the consensus of the medical providers and scientists across the globe who see transgender people, know transgender people, and urge everyone to accept us for who we are. And no rule—no administration—can erase the experiences of transgender people and our families. While foolish, this proposed rule deflates itself in the face of the facts, and the facts don't care how the Trump administration feels.
To transgender people: I know you are frightened. I know you are horrified to see your existence treated in such an inhumane and flippant manner. What this administration is trying to do is an abomination, a reckless attack on your life and mine. But this administration is also staffed by inexperienced amateurs overplaying their hand by taking extreme positions that ignore law, medicine, and basic human decency.
With each awful headline like this, remember that you are far from alone. NCTE and other organizations are continuing to fight against this bigotry. Remember that there is an entire human rights community that not only stands with us but will always fight back—and fight hard. Thousands of us have devoted our lives to protecting you and your families, and our ability to do so is nothing short of a privilege. And we will not lay down now.
Transgender people have fought rules like this one in federal and state court and won. We have stood toe-to-toe with administrators, legislatures, and executives who would agree with this rule and yet we won. We have fought and will continue to fight for The Equality Act, a bill currently in Congress that would explicitly enshrine civil rights protections for transgender people—Congress must pass this long overdue bill now. We know how to defeat this, and we will do everything we can until every transgender person feels secure in their rights under the law.
At the heart of our work at NCTE is the belief that no one should have to suffer just to be true to themselves. And yet transgender people are still often forced from their homes, fired from their jobs, harassed at their schools, and denied the most basic level of dignity by a broken system. Knowing this, millions of transgender people wake up every day and step into an uncertain world. This is the most common trait shared by transgender people: A strength and resilience for hard and difficult times. If this administration is hoping to demoralize us, they will be disappointed. If they are hoping we will give up, they should reconsider the power of our persistence and our fury."
About the National Center for Transgender Equality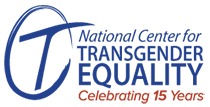 The National Center for Transgender Equality advocates to change policies and society to increase understanding and acceptance of transgender people. In the nation's capital and throughout the country, NCTE works to replace disrespect, discrimination, and violence with empathy, opportunity, and justice.