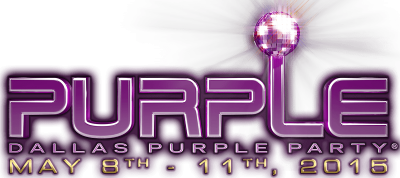 Established in 2001, Purple Foundation is a 501(c)(3) nonprofit, all-volunteer organization whose mission is to raise funds to improve the lives of people in the Dallas area who are living with or are affected by HIV/AIDS.
With donated proceeds of more than $600,000, Purple Foundation has become an invaluable source of revenue for local charity organizations whose work reflects our mission.
The Purple Foundation produces several dance fundraisers and social events throughout the year.
Purple Foundation's premier dance fundraiser, Purple Party Weekend, is a sensational weekend of dance events featuring electrifying visual performances and music by some of the world's most popular DJs. Purple Party Weekend attracts dance-music lovers from all over the world and is the largest nonprofit, all-volunteer charity dance weekend in the United States. In addition to Purple Party Weekend, Purple Foundation produces Purple Pride Weekend, during Dallas Gay Pride Weekend, and several quarterly dance events at various Dallas venues.
Our Beneficiaries
The mission of ASD is to create and strengthen healthy communities through the delivery of quality, affordable, service-enriched housing for individuals and families living with HIV/AIDS. ASD's mission includes advocacy, education, and the development of affordable housing options and community development opportunities, both for its residents living with HIV/AIDS, and for economically disadvantaged people.
Resource Center Dallas is the primary lesbian,gay, bisexual, and transgender (LGBT) and HIV/AIDS service organization in North Texas. The Center offers many LGBT services to the community and operates one of the largest LGBT Community Centers in the United States. The Community Center is home to a variety of community organizations and serves over 50,000 people each year through its programs and services.
The mission of Legacy Counseling Center is to provide affordable and quality mental health care, substance abuse treatment, and special care housing services to people in the North Texas area who are impacted by HIV/AIDS.
OUR FABULOUS CITY
Purple Party Weekend turns 15 this year, and to celebrate we're pulling out all the stops to bring you our most spectacular weekend yet.
Mark your calendars and join us in May for an unrivaled lineup of the world's best DJs, a healthy dose of Texas-sized hospitality, and the magic that makes Purple Party more than a party but a weekend that makes a difference.
Event Information
Purple Party Weekend – Dallas,TX – May 8th-11th 2015
Map Unavailable
Date/Time
05/08/2015 - 05/11/2015
All Day
Categories